Save $70
Brand New OEM Timing Chain Kit 3.9L 32V DOHC, 6 Pieces, Engine Repair Kit (OG-60-3.9L-6-2)
$345.00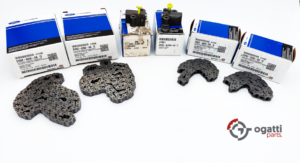 Applications:
All vehicles with 3.9L V8 32V DOHC EFI Only!!

2001-2006|Ford|Lincoln
2001-2006|Ford|Thunderbird
2 × Brand New OEM TENSIONER - TIMING BELT 2W9Z-6L266-AA |6L266|
2 × Brand New OEM BELT - TIMING 2W9Z-6268-AA |6268|
2 × Brand New OEM BELT - TIMING 2W9Z-6268-BA |6268|
Description
Brand New OEM Timing Chain kit 3.9L V8 32V DOHC EFI 6 Pieces, Engine Repair Kit |Lincoln|Thunderbird|
Applications are provided through literature and research and are correct to the best of our knowledge. Listed applications should be used as a guide and may fit additional vehicles. Please note the part number and verify it in your application before purchase. Please contact us if you have any questions before purchasing.
NOTE: for this kit we recommend that you buy original parts, it is the life of your engine, if you assemble Generic parts you run the risk of the following:
1- That the quality of the pieces is not of the best quality.
2- That you have to lower the engine again.
3- That if this happens you lose money and time.
4 – You lose a friend and a mechanic because he will want to charge you again for labor.
5- You will have to buy a new Kit.
6- Better not to risk and we recommend that you buy Original.
Part Number:

2W9Z-6L266-AA X 2 TENSIONER
2W9Z-6268-AA X 2 CHAIN RH/LH Primary
2W9Z-6268-BA X 2 CHAIN RH/LH SECONDARY
Engineering Number: 
Additional information
| | |
| --- | --- |
| Weight | 2 lbs |
| Dimensions | 12 × 10 × 2 in |
Only logged in customers who have purchased this product may leave a review.